DAT SBR Spray Adhesive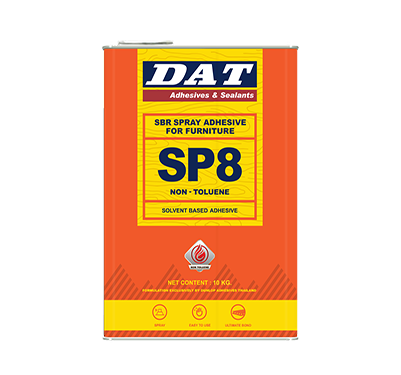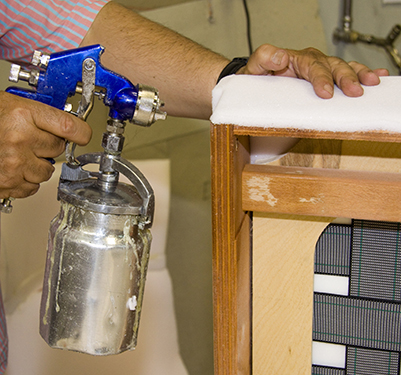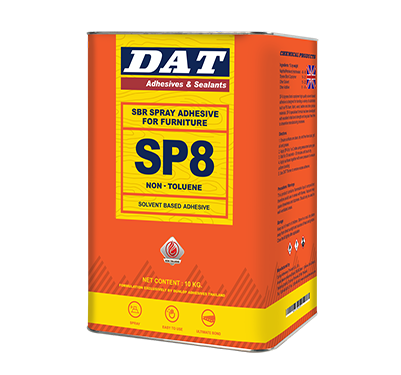 A high quality SBR adhesive suitable for the Furniture Industry.
Features











SP8 styrene block co-polymer is a high quality solvent-based adhesive designed for bonding a variety of substrates. SP8's specialised formula has been developed with excellent initial bond strength and long tack free time to streamline manufacturing processes.
PU Foam
Fabric
Wood
Plywood

Leather
Laminate
Veneer
Particle Board

Metal Sheet
Cardboard
Carpet
Flexible Foam
| | |
| --- | --- |
| | 1. Ensure that surfaces are clean, dry and free from dust, grit, oil and grease. |
| | 2. Apply SP8 Adhesive to 1 or 2 sides using a pressurised spray gun. |
| | 3. Allow to dry for 1-45 minutes until touch dry. |
| | 4. Apply even pressure to the assembly to ensure uniform bonding. |
| | 5.Use DAT Thinner (E123) to remove excess adhesive. |
| | 6. Leave to dry for at least 4 hours. |
Keep out of reach of children. 
Store in a cool, dry place  away from direct sunlight and sources of heat and ignition.
Close the lid tightly after application.